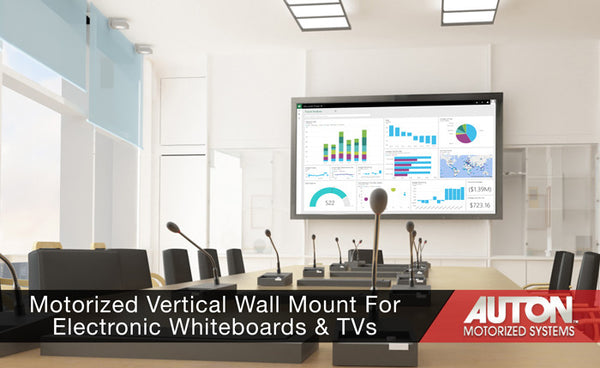 Vertical Wall Mount for Electronic Whiteboards and TVs
We are the industry leader in motorized systems, recently announced is our new Motorized Wall mount that coincides with the release of the Microsoft Surface Hub, an innovative business communication and networking tool that the software giant has been developing for years. The Surface Hub has run into numerous delays over the course of its development and its release has been indeterminately pushed back.
Our Motorized Wall Mount, however, is ready for anything your business can throw at it. Though it may have been designed with the Surface Hub in mind, the Motorized Wall Mount has many applications and uses beyond Microsoft's latest business tool. We are known for making the best motorized TV lift systems in the industry, and with the Motorized Wall Mount the we are our expanding our reach to cater to businesses and commercial audio-visual integrators.
Goes Beyond the Surface Hub
The Motorized Wall Mount is the perfect mounting and display solution for the Microsoft Surface Hub, but it's so much more versatile than just that. The mount is the ideal companion accessory to a whole range of electronic whiteboards and other VESA-compatible interfaces. This unique mount complements electronic whiteboards to facilitate communication and improve business-to-business (B2B) and business-to-customer (B2C) workflow.
The Motorized Wall Mount is a valuable business accessory, to be sure, but its usefulness is not reserved only for the corporate world. From classroom environments to sports locker rooms, from science labs to television broadcasting studios—any place that can benefit from interactive telecommunications can similarly benefit our new wall mount.
Don't Let Technology Stand in the Way of Communication
As technology advances, communication becomes simultaneously easier and more complex. Today, it's easier than ever to conduct business with someone halfway around the world; however, the number of glitches and bumps along the way that can derail a conversation has only increased. We help technology get out of its own way. The mount ships fully assembled, making it a breeze for commercial A/V integrators and novices alike to install. Plus, with up to 26-inches of vertical movement and programmable display heights, you can move from videoconference to presentation and back with the touch of a button.
In today's increasingly connected and technologically dependent world, the ease of communication is paramount. Whether for business people, students, coaches, entertainers, or broadcasters, the ability to communicate effectively is incredibly important. We understand that.